DAILYTAROT DIVINATION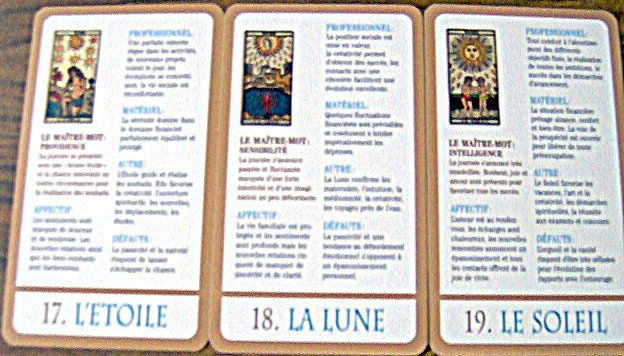 THE DAILY TAROTS Divinatory

Here are some examples to read:
Star: The day is presented as a "lucky star" and the chance is involved in all circumstances for the fulfillment of wishes.
The Moon: The day promises to be passive and fluctuating marked with a strong emotion and a boundless imagination a bit.
The Sun: The day promises to be very sunny. Happiness, joy and love are all present to promote success.
The Judging: The day announces unexpected situations and events that mark pleasantly surprising exchanges and activities.
The World: The day promises to be very active, with many exchanges, contacts and various proposals sympathiques.
The Mat: The day promises to be under the sign of wavering and confusion against the good and projects.
Every day you can draw 3 cards: shuffle the cards before each draw: Here you can find out if your day is good or bad.

EMOTIONAL, PROFESSIONAL EQUIPMENT, OTHER QUALIFICATIONS
Prevent its future by Colette Silvestre set to quotidien.56 tarot cards

Hello cat

ATTENTION THE CHAT THE SPIDER VA T'ATTRAPPER?

THE CHAT HEARD THAT MUSIC